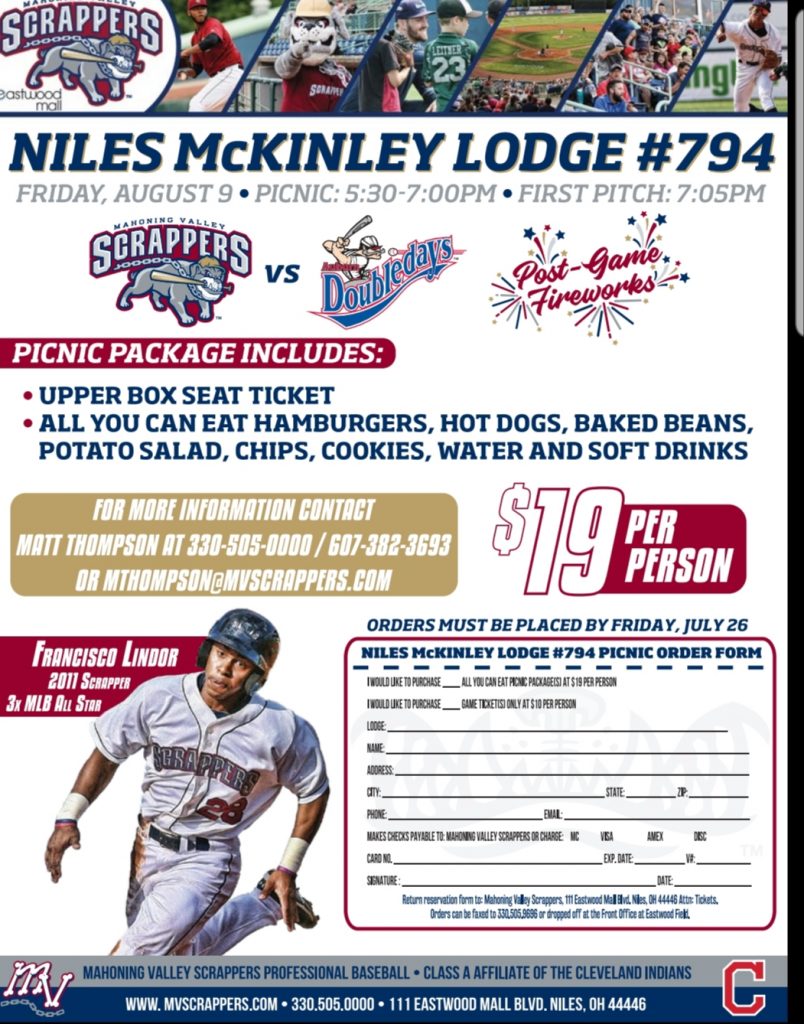 Brethren – Attached is the flyer for a Masonic Summer Picnic at a Mahoning Valley Scrappers Game hosted by Niles McKinley Lodge #794 on Friday, August 9, 2019.  The picnic starts at 5:30pm and runs up to Game Time at 7:05pm.  The cost is $19/person for the picnic and game ticket, although folks may just pay $10/person if they can't make it early for the picnic and want the game ticket only.  Reservations must be made in advance.
If you've not participated in this event before, it's a great time and a great event to bring your ladies, children, and grandchildren.  I also think it's a great opportunity to invite anyone you know who's considering joining Freemasonry as it's a laid back, no-pressure event where they can get to know other Masons in a fun and friendly setting.
This might also be a nice event to bring any widows that you know.  I would encourage the Brethren to volunteer to sponsor any who may wish to attend a nice event in the summertime.
Orders can be placed over the phone with a credit card, you can mail or bring in a check, or just stop by the box office with any form of payment.  Please let me know if you have any questions.
Please confirm you've received this when you get a moment and, of course, let me know if YOU have any questions. I appreciate you helping out with this and hope you're able to attend.
Thanks again and have a great day!
Matt Thompson
Assistant General Manager – Sales
Mahoning Valley Scrappers
Class A Affiliate – Cleveland Indians
111 Eastwood Mall Blvd
Niles, OH 44446
T – (330) 505-0000 x210
---