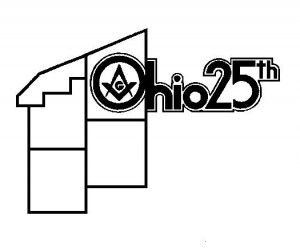 This Site is sponsored and maintained by the 25TH District Blue Lodge Association for the benefit of the Masonic Lodges located in Lake, Geauga, Ashtabula, Portage, and Trumbull Counties, their members and guests.
The purpose of the Association shall be to promote matters pertaining to the welfare of Blue Lodges in the 25th Masonic District, to arrange and conduct District meetings and functions, including the reception of Grand Lodge Officers on appropriate occasions in conjunction with the District Deputy Grand Masters of the 25th Masonic District, to receive such information from the Grand Lodge as the District Deputy Grand Masters may deem necessary, to promote Good Will and Brotherly Love among its Members and do any and all things necessary to carry into effect the above aims and purposes.
25th Masonic District Association Grand Master's Reception 2018
Quail Hollow Resort
Saturday, April 28, 2018
Social Hour: 5:30 PM
Buffet Dinner: 6:30 PM
Cost: $38
RSVP is required in early April
If you plan to go, contact your lodge's secretary
For every $100 dollars you sell in ads, you will receive 1 FREE ticket to the dinner!!!

District Deputy Grand Masters
James Kowacich, JR. (Vicki)
WM. Farr # 672
969 McDonald Avenue
McDonald, Ohio 44437
Home Phone: 330-530-2997
Cell: 330-272-1191
Email: jkowacich@zoominternet.net

Jeffery Lock, JR. (Kelli)
Newton Falls #462
9800 Minyoung Road
Ravenna, Ohio 44266
Cell: 330-647-0599
Email: jefflockjr@yahoo.com

Robert Thomas (Donna)
Village #274
509 Brandon Court
Chardon, Ohio 44024
Cell: 440-286-5661
Email: pghp1314@gmail.com
G. Michael Hasman (Mary Ruth)
13330 Sperry Rd
Chesterland, Ohio 44026
(440) 313-5923
gmhasman@hotmail.com

Daniel Shaffer (Lori)
7466 Stoddard-Hayes Rd.
Farmdale, Ohio 44417
(330) 219-4823
Desmo12@aol.com

Jon Trego (Stephanie)
402 Madison St.
Ravenna, Ohio 44266
(330) 671-5425
jptrego@yahoo.com
District Advisor